Peregrine Lake is set in the small village of Peregrine Lake, WI. Located an hour north of Eau De Puanteur, and nestled in the western part of the Wisconsin Northwoods, it's a small town with small town problems.
And there's something lurking in the woods.
…oh, and Sunset Bay Supper Club out on Highway Q has the best french onion soup you'll find for at least a two hour drive. You definitely have to try it. But just a warning, if Earl's bartending that night look out — he mixes those drinks strong.
Peregrine Lake is technically a sequel to UnCONventional, but it is not required reading.
The Author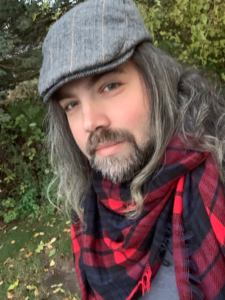 Besides Peregrine Lake, Trae Dorn is also the artist and writer of the webcomics UnCONventional (completed) and The Chronicles of Crosarth (workin' on it!).
Outside of comics, Trae is also the producer and host of a number of podcasts under the Nerd & Tie Podcast Network brand. They can be heard on The Nerd & Tie Podcast, BS-Free Witchcraft, On This Day With Trae, and Stormwood & Associates.
Oh, and they also have a personal blog which updates periodically.
Trae currently lives in Eau Claire, WI with their wife.